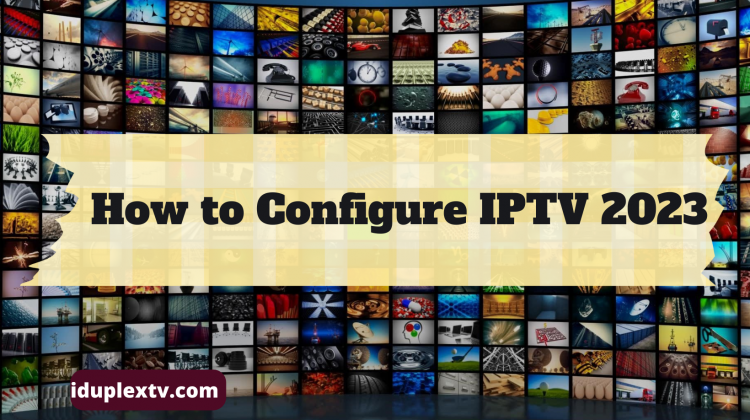 How to Configure Iptv Best in 2023 ?
How to Configure Iptv 2023
The question is How to Configure IPTV? With Android devices becoming more and more popular, many people are wondering if they can use them to watch IPTV streams. Actually, IPTV is one of the latest and most relevant television standards. To watch it, you need an Android device – a TV, a TV box (also called a set-top box), or a smartphone – and of course, an Internet connection.
At the moment, there is a huge number of applications that let you watch IPTV. Today I'll show you some of the most popular and easiest to use. IPTV Well, the first application bears a very plain name – IPTV, and you can download it from Play Market by following the link below this video. You can see, there are many similar utilities offered. Install the app on your device and start it.
IPTV is a tool to let you watch online a number of TV channels – on condition that you have a high-speed Internet connection and a suitable player installed on your device, for example, a VLC player. Another critical step is to find and download a TV channel list in the M3U format. This application is good for weak TV boxes as it is not too resource-intensive. To watch TV channels, add a playlist to this field, specify the path to a file or paste a link. If your provider offers its own list of channels, you can use it, or you can search for a free channel list online.
To do it, open your browser and type IPTV list in the search field. Open the first link (you will see it in the description) Now you should either download the file or copy this link. In the programs window, click to add a playlist. Now you specify the location of the file you have just downloaded or choose a URL if you have copied the link, and then paste the copied text into this field. The link may be copied with some unnecessary information – if that's your case, delete all the text after m3u.
Specify the playlist name and click Ok to open the list of all available channels. Now select the channel you'd like to watch and click on it. The video may not start if you don't have a video player installed on your device. When the program starts, you might see this notification. In this case, download MXPlayer or a similar application and try again.
That's all, now you can watch IP television no matter what you are using – a Smart TV, a TV box or an Android smartphone. On the Internet, you can find other channel lists as well and add them to this application, because it can switch between several lists. Perfect Player, Another tool is Perfect Player, which can also be found and installed from Play Market. This is a full-fledged IPTV and media player with on-screen menus, full-screen control options, and a channel manager. Its on-screen menu lets you control how you watch a video with a minimum of user actions.
You can also watch IPTV with groups of channels, logos, and TV program schedules (EPG, electronic program guide), and instantly receive updated playlists, EPG, and logos from the IPTV data server by just entering the address of such IPTV data server in the settings of the program. You can control it with a mouse, keyboard, remote control, and even with your fingers. Like with the previous tool, you will have to add a playlist. Open Settings (the gear-shaped icon), General, and go to the Playlist line to add the link or path to a file. After that, you will see the list of available channels on the screen.
HalvaPlayer The next tool to have a look at is Halva IPTV Player another free app for watching IPTV customized to work with Android TV Box devices. It shows you no advertising unlike the previous two programs, which is a great advantage in itself. It also supports a multilingual interface and features some launcher functions for other applications. Halva can work with both official (commercial) playlists and any other free playlists you may download on your own. It also features voice search, automatically starts the application when the TV box is turned on and lets you choose a third-party player to work with video files.
You can configure its settings so it starts when the Android TV is switched on, and reassign remote control buttons. This application is designed for Android set-top boxes, And navigating it from smartphones and tablets can sometimes be challenging. This player also supports archives. ForkPlayer If you don't feel like searching and updating playlists every time, there is a tool with integrated channel lists and libraries full of movies, TV series, and other video stuff. You can find the link in the description.
ForkPlayer is a browser that can be adjusted for your specific device to view websites and playlists created by other users. All the content is taken directly from websites and will be shown in ForkPlayer after web pages are processed and transformed into the player's own format. The availability and quality of videos will depend entirely on the website they are transmitted from and your Internet connection speed. The app can be controlled easily with a mouse or remote control. When you start the application for the first time, you should take some time configuring it, because it doesn't show all available resources at once .
To do it, open Settings, go to start menu settings, and click here to add all links. After that, enable third-party content (adult content of your choice), set the video quality you prefer, and enable ratings, and Remote Fork to be displayed. Now that you are finished with the settings, go to the main page to see that a few tabs have been added. For example, at KinoKong you can see the latest movies, TV series, cartoons, and TV programs or use the search function to find what you like. At VivatTV, there is a large list of IPTV channels.
In the top search category, you can find lots of various IPTV lists, and libraries full of movies, TV series, and other video stuff. That is all for now. I hope you liked this video. Hit the Like button and subscribe to our channel. Leave comments to ask questions.